Caring for aging loved ones creates challenges for individual caregivers and for the organizations who employ them.  In 2017 Eldercare issues cost companies over $36 BILLION in lost productivity, and billions more were unnecessarily spent mitigating avoidable issues.  Mr. Eldercare 101's solutions & services help working caregivers stay engaged and focused so organizations can remain productive and profitable.
For most caregivers, their feelings of pride exist along-side their conflicting emotions of fear and anxiety.  Add depression and exhaustion to the mix and the result is an individual trying to provide care while struggling with their own significant issues.  Most are happy to "give-back", but there is also a sizable percentage of caregivers who report feeling forced into caring for an aging family member; which magnifies their struggles and stress.  With this as the backdrop it's easy to understand why the average caregiver's productivity decreases by 18.5%, and the COMPANY PAID portion of their health care premiums increases by almost 10%.
ORGANIZATIONAL ELDERCARE CHALLENGES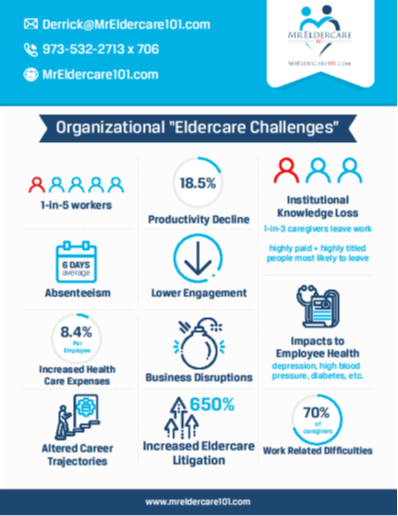 The physical, mental, financial and emotional demands of eldercare often leave caregivers drained and without the ability to best care for their loved ones, themselves, or their responsibilities at work, their "day jobs".  Our goal is to enable caregivers to best care for their elderly loved ones as they simultaneously care for themselves and manage their other responsibilities (i.e. work, parenting etc.). 
On average 1-in-5 workers is dealing with eldercare challenges.  As such, the average caregiver's productivity DECREASES by 18.5% and the COMPANY PAID portion of their healthcare premiums INCREASES by almost 10%.  In short, companies are paying substantially more for, and getting significantly less from 20% of their workforces. 
Consider the following ways eldercare issues may already be impacting your business:
Increased absenteeism: Unexpected senior care emergencies pull employees away from work at the last minute.
Decreased productivity: Caregivers when being forthcoming (many are not because they fear being seen as less committed to the organization) admit that caring for an elderly loved one and the accompanying fatigue and stress impact their productivity on the job.
Loss of talent: Almost 1-in-3 caregivers leave the workforce for some period of time to care for an aging loved one.  A significant number do not return. 
Unexpected workflow interruptions – work not being completed when expected and sometimes not at all makes it difficult to plan business activities and manage team/organization deliverables. 
Declining morale: Emotional stress, physical exhaustion, and a general sense that colleagues don't know or understand caregiver issues leads to frustration and sub-optimal attitudes and behaviors-which have been shown to diminish loyalty to organization and negatively impact the entire team, overall productivity, and ultimately profitability of the organization.   
While recognizing the ways that family caregiving could impact your business are important, so are tuning into the signs that your working family caregiver needs help. Family-friendly business practices don't have to be expensive or difficult to implement.
ORGANIZATIONAL BENEFITS & ROI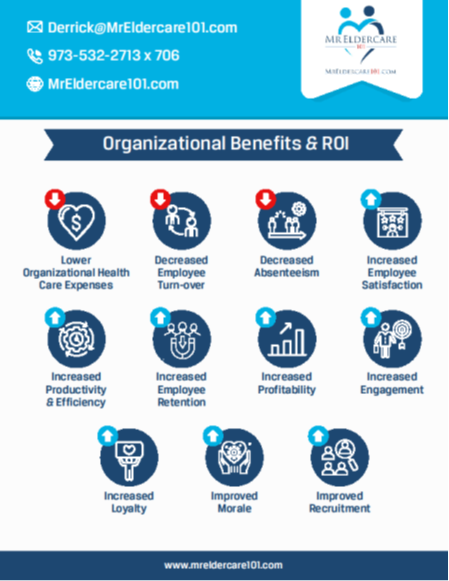 Please check out our Free PREVIEW CLASSES at www.Eldercare Education Center.com  (ON SCREEN – www.EldercareEducationCenter.com) and good luck on your caregiving journeys.